By Charles Meeks
Growing up in rural North Carolina in the 1980s, I took it for granted that there was a Black History Month to celebrate each February. However, being raised in a nation that is steeped in racial inequality in both a legislative and cultural sense, I also took for granted what Jesus's call on all of us to love our neighbours might have actually meant.
First proposed by students at Kent State University in 1969, Black History Month was officially recognized by President Gerald Ford in 1976 during the United States Bicentennial. President Ford urged Americans to "seize the opportunity to honour the too-often neglected accomplishments of Black Americans in every area of endeavour throughout our history."
Some have opined that limiting such recognition to only one month is something of an insult; it is hard to disagree. As actor Morgan Freeman has stated, "Black history is American history." Indeed, Black history is North American history, I would proffer—not least because the same intermingling of economic development with institutional racism in the US is present in Canada.
The anti-slavery movement gained support much earlier in Canada than in the US. The Black Loyalists founded settlements throughout Nova Scotia during the War of American Independence. The case of Chloe Cooley, an enslaved African woman in what is now Ontario who resisted transport and being sold into the US, got the attention of Lieutenant Governor John Graves Simcoe in 1793. Still, slavery was not officially abolished until 1833. Times changed slowly, though; when St. Paul's Anglican Church opened in Port Robinson in 1844, 11 years after abolition was enacted, it was one of the only churches that allowed Black people to worship.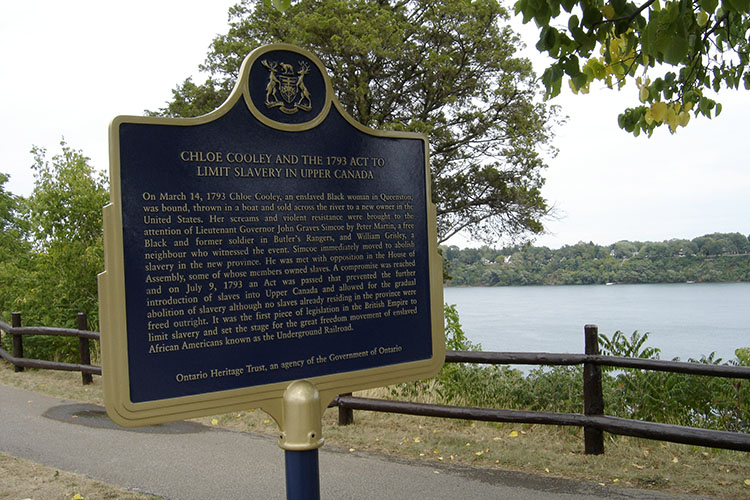 I was actually surprised to learn that Black History Month was only finally observed by both chambers of Parliament in Canada in 2008, after Senator Donald Oliver made a motion that was unanimously approved. Oliver is a member of Nova Scotia's Black minority, descended in part from slave refugees resettled by the British in Canada from the US after the War of 1812. It was previously only recognized in the House of Commons in 1995 thanks to a motion by Jean Augustine, the first Black Canadian woman elected to the Canadian Parliament and appointed to the federal cabinet.
The first Black MP was, of course, Lincoln M. Alexander, a Hamilton hometown hero of sorts. One wonders what would have happened had Stelco been willing to hire a Black salesperson, and Alexander not gone on to challenge the dean of Osgoode Hall and launch a career unwilling to allow people in authority to wield power in a racist system unchecked.
That vote in the House was unanimous—305 to 0! Yet, it occurred so recently, just within the last 30 years. We are moving rather slowly as a nation. And, we have moved quite slowly as an Anglican Church to rethink what it means to love our neighbours. But there are things happening in the diocese of Niagara that lead me to believe that Jesus' call on our lives, especially as we reconsider our baptismal vows as a diocese, is being taking more seriously.
Not least is the pioneering work of members of our Anti-Racism Working Group, who continue to both call out for justice and offer support and resources for parishes. Last month, The Niagara Anglican featured an article by The Reverend Naomi Kabugi on the "Made in Niagara" framework being developed for this purpose.
Local parishes are also heeding the call for truth and justice. For the second year in a row, Church of the Incarnation, Oakville, has celebrated The Reverend Dr. Martin Luther King, Jr., by featuring a guest speaker on the Sunday closest to his birthday (January 15) and focusing on Dr. King's legacy and all who are working for equality. Lay Associate Randy Williams hopes that over time more parishes will acknowledge the need for such attention "as issues of voting rights, civil rights, equity, and diversity continue to swirl around us across North America."
Church of the Resurrection, Hamilton, has formed a Living Black History Ministry Committee dedicated to organizing events and speakers—even virtual, during the pandemic—to raise awareness and celebrate the diversity of their parish. This includes establishing a Living Black History library and, in previous years, hosting a celebration of Barbados Independence at the church.
So: things are happening. The official theme for the government of Canada's 2022 Black History Month is February and Forever: Celebrating Black History today and every day. It is my hope that an increasing number of parishes across this diocese will use this opportunity to celebrate the contributions of Black Canadians, but even more so to continue engaging in the difficult work of dismantling the anti-Black racism that continues to pervade our society. If we're going to take Jesus seriously about loving our neighbour, we must continue to learn and unlearn.
If you're interested in Black History Month activities and resources across the diocese of Niagara, please check out this resource compiled by our diocesan Anti-Racism Working Group.
---
Source: The Niagara Anglican Newspaper