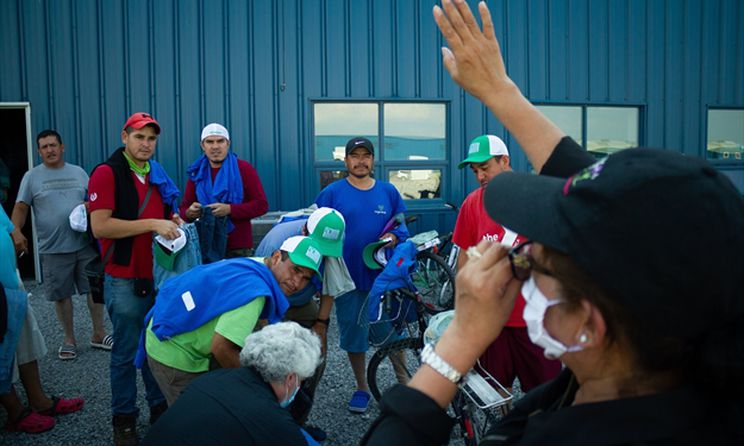 Invisible no more: Migrant worker outreach moves from the church to the field
Anglican Diocese of Niagara's Migrant Farmworkers Project continues to distribute food and clothing during pandemic
Antonio and Cela Illas loaded a Nissan Versa with donations of food and clothing on a recent Friday afternoon before driving to Niagara-on-the-Lake. They arrived at 5 p.m., meeting migrant workers at a large farm off of Concession 7 Road. Here there are around 100 migrant farm workers separated into three buildings, according to Antonio.
The couple distributed long-sleeved shirts, underwear and socks to the mainly Spanish-speaking men from Mexico. They're here through Canada's Temporary Foreign Worker Program to work Niagara's fields.
Workers Albaro and Derarvo arrived in Canada back in March. This is Albaro's second year coming to Canada, and Derarvo's seventh.
Albaro says he lives a couple hours outside of Mexico City, where he was a construction worker before coming to Canada. He only makes the $14-an-hour (CDN) minimum wage here, with nearly all of it going back to his family in Mexico. But it's a far cry from the $10 to $20 (CDN) per day the pair would be making back in Mexico, they say.
The food and clothing donations mean the men can spend less money on supplies here and send more back home.
After the rounds are made, the men thank the Illases and wave goodbye before heading back into the housing buildings. Signs are displayed on the doors in English and Spanish: "No visitors allowed."
At the next stop, a vineyard seven minutes away, Antonio and Cela knock on the doors of two houses. "Buenas noches," they call out.
The loud chatter from a TV escapes outside as a man in his 50s emerges wearing a sleeveless top, a yellow fly swatter tucked under his arm.
Gradually more workers make their way over between the two houses, greeting Antonio and Cela as she hands out more shirts. It's clear from the friendly exchanges and conversation that the Illases' presence is welcome.
Even in the oppressive heat, as a priest and migrant farm worker missioner with the Anglican Diocese of Niagara, Antonio wears a black, short-sleeved button-up with a white priest's collar – a reminder that he is bound to serve his flock. A crucifix from Oaxaca, Mexico also hangs from his neck, and both he and Cela wear masks.
Antonio is a Puerto Rican with dual American and Mexican citizenship. Before coming to Canada, he moved from Washington State to Mexico as a candidate for bishop there. After an unsuccessful election, he came to the Diocese of Niagara. He's now been a migrant farm worker missioner for nearly a year and a half, and says he loves the church's holistic approach.
The Migrant Farmworkers Project was first started out of St. Alban's Church in Beamsville seven years ago. As the main hub, it also hosts a medical clinic, a bike program (a worker's main transportation) and community dinners for the workers.
Workers are normally brought from their workplaces in a rented school bus to the parishes to visit the "tiendita" (small store), where donated items are available to the workers for free. But COVID-19 has closed the churches until September at least, forcing them to adapt their outreach – for the better.
"It's what I call a ministry of presence," he says. The weekly visits are a morale booster. "They know that we're here, we see how they're doing, and we tell them that they're doing a good job, keep it up," he said.
This "metamorphosis" is the "new normal," Antonio says. "I think this is what the program is going to look like going forward."
"They are our neighbours for eight months out of the year and these neighbours have been invisible or overlooked for many, many years," he continued.
"They are crucial, they are very essential to Canadian food security, and at the same time it's ironic … they are the ones who plant, who grow, and you can see that they are also vulnerable when it comes to food security."
After moving boxes of food from the car, Antonio talks with two workers in Spanish.
"They were talking about the new restrictions of movement – they can no longer go to the store, but at the same time, it's very moving because they were telling me that now the employer, since they have to do the grocery shopping for them, the owners are learning the jargon, they are learning the products, the traditional ethnic Mexican products they use," Antonio explained.
Those traditional products include black beans, corn tortillas (preferred over flour in Central and South Mexico), hot peppers and sauces.
"They have discovered that during this pandemic, they have been a lot more in contact, there's a lot more two-way communication with their employer, so it's a new atmosphere, it's a new time where I guess they have taken the time to learn from one another, to make it an intentional two-way street."
Antonio and Cela aren't alone in their efforts. Another 10 volunteers at other Niagara parishes are doing similar work every week. Between Niagara's three parishes – Christ Church, St. John's and St. Alban's – they impact hundreds of migrant workers between 48 residences.
"It's pertinent and it's crucial. It has to be done. More than ever it's needed," he said of the project, noting that it's only "the tip of the iceberg of the 4,000 that we need to serve in this area."
Bishop Susan Bell, of the Niagara Diocese, addressed an open letter on June 29 to Prime Minister Justin Trudeau, advocating for permanent resident status for migrant workers, among others.
Antonio says many farm workers he has met over the last year have spent more time in Canada than in Mexico.
Like many of the migrant workers, he too hopes to gain permanent residence status. Antonio is in Canada temporarily under a "visitor record status," and he'll eventually be expected to leave.
The summer evening sun bathed the surrounding vineyards in a warm glow as the two remaining workers smiled and waved goodbye to Antonio and Cela.
A long night lay ahead as the couple set off toward booming clouds over the countryside.
Five more farms in Niagara-on-the-Lake would be visited over the next four hours. Next week, they'll be at it again.
Source: NiagaraThisWeek.com
---