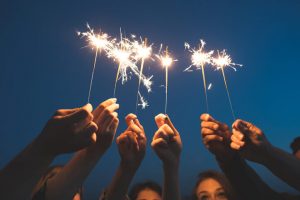 Niagara School for Missional Leadership
Our diocesan Mission Action Plan (MAP) envisions the Niagara School for Missional Leadership as a space where lay and clergy leaders can gather to share and reflect upon their experience of ministry and receive training to respond creatively and faithfully to God's mission.
"Our MAP is a bold statement of what we want to become by the Grace of God over the next 3-5 years," says Bishop Susan Bell. "It's intended to be a living document – constantly in use and developing organically with the inevitable and much prayed-for developments in the life of the Church." Hundreds of people from across the diocese contributed to the development of our mission action plan.
To achieve the mission and vision of our MAP we must grow, develop, and strengthen missional leaders. This is why we launched the Niagara School for Missional Leadership. Launched fall of 2021 with the vision, "To create a coaching and praxis-based learning environment where participants are equipped to respond creatively and faithfully to God's mission", the school's mission is to be a Gospel-focused learning community that trains effective missional leaders to respond to the needs of God's world.
The Niagara School for Missional Leadership centres its learning on the Good News of Jesus Christ. This Good News is, in part, that the Church is called to participate in Jesus' mission in the world in bringing about the Kingdom of God. Jesus calls us to life and compels us to love, and as we do so, the kingdom breaks into the world around us.
We give thanks for those whose gifts of time, skills, and finances were offered early on to help turn the dream of a missional school for leadership into a reality. As Bishop Bell has shared, "I am deeply grateful to those who have offered their resources to support this idea. Their generosity has helped to underwrite creativity and innovation into the future."
And we are only at the beginning – transformation takes time and resources. Your support of the Niagara School for Missional Leadership provides opportunities for all – lay or ordained – all are welcomed to take courses so we can strengthen and support our parishes and communities. "We hope that every person who takes one of these courses is as inspired as we have been to see how it will transform them and the culture of our parishes and diocese," says Bishop Bell.
To learn more about the Niagara School for Missional Leadership please contact Charles Meeks, Coordinator: Niagara School for Missional Leadership and Diocesan Communications by email.
Differentiated Curacies
We have begun to set aside funds for what's called differentiated curacies. And we need your help to make this possible. 
Bishop Susan shared the following through the Bishop's Charge to the 147th Synod of the Diocese regarding Differentiated Curacies.  
       "Our ordinands come from – thanks be to God – many different backgrounds ready for a transformational and educational exchange:  they come ready to offer their gifts and we are ready to impart our own. Each mature priest is the product of the formation of many parishes as well as teaching rectors. To that, they bring their own gifts and the blessing of the Spirit who has set them apart to exercise those gifts on behalf of the Church. 
But we have a functional issue:  and that is, most of our ordinands will not begin their incumbencies in a large, urban parish. There is a shape to the vocation of priest, and it is mirrored in Luke 16:9 – "whoever can be trusted with small things can then be trusted with large things."  And here I want to be clear that I am not speaking of small or large parishes – rather, I am speaking of the development of the smaller and larger gifts of leadership.  You see, the vocation of priesthood is shaped by the intersection of the gifts and skills that leaders possess and the intersection of those skills and gifts with the needs and dreams of parishes in which we serve. . . .
Having funds like this will augment the investment that a parish will make so that an assistant curate can help the ministry of a parish flourish. It will support the learning of skills in a particular context: village, town, or city.  It'll help us build many skills that are appropriate to context:  whether in a resource rich environment or in a community that runs effectively and lovingly on a shoestring; a parish that leans more mature or a church plant that leans younger.  All of these and many more learning contexts will support our investment in building the leadership skills of our clergy. . . . 
So, we will have people who will discover a gifting for rural ministry and some for church-planting. We will have people who will discover a calling to work with the street-involved and those who will discover that they are born to minister with children and young families. You see, it's only in this way – as we invest in our leaders that we will discern both where God is leading us and the skills and tools that God has given us in the servants the Lord is raising up."
By Susie Kim As the missioner for the Durand, Kirkendall North, Strathcona, and Central neighbourhoods in Hamilton, I think of myself as a kind of
Read More »