16 Niagara parishes participate in program of spiritual growth
"I went to Revive because my rector invited me, I had no idea the wonderful spiritual adventure I was about to begin," exclaimed Jim Steadwick, whose response is typical of participants surveyed after taking the Revive program that ran last year in the diocese and wrapped up in the spring.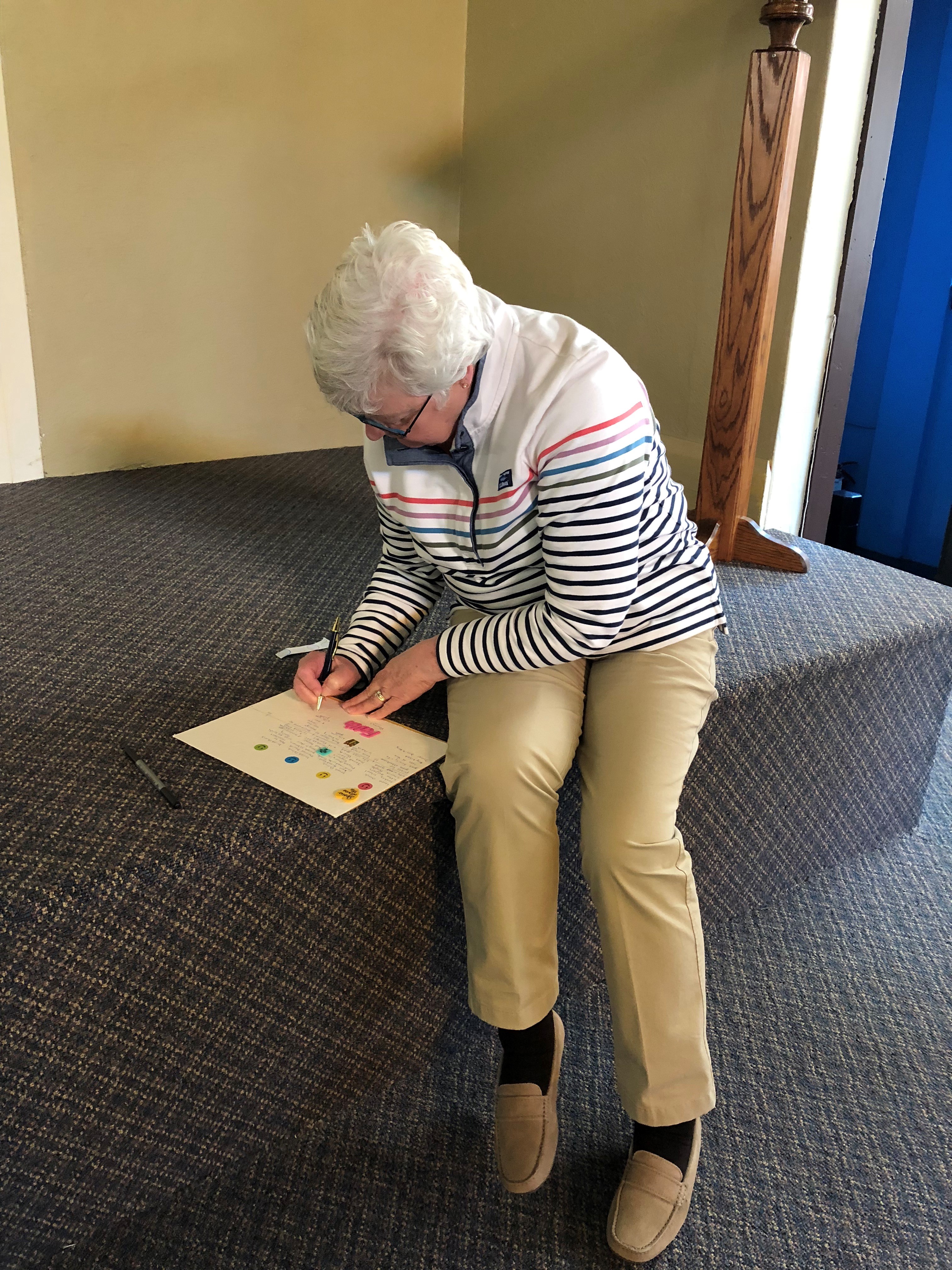 Sixteen churches signed up to try out Revive, a program for equipping church leaders to become spiritual leaders. "We really were test driving the program for the first time and taking it to parishes of all sizes and cultural shapes," said the Reverend Canon Dawn Davis, faith formation coordinator and creator of Revive. Bishop Susan Bell had heard about Revive and asked Canon Davis to roll it out across Niagara.
"I am so excited and impressed with the impact of Revive," said Bishop Bell, who noted that many people have spoken to her about its effect on their lives and spirituality. "People are speaking so tenderly and openly about their faith and deepening relationship with God. I can't recommend this program strongly enough!"
The format of the program is that a small group of lay leaders meet with their priest for two-hour sessions—six weeks each in the fall, winter and spring; learning how to pray, engage with scripture and sense God's call to ministry. The program gives structure and support for a spiritual life by encouraging and modeling spiritual practices. Each meeting opens with the question: "How is it with your soul?".
Participants who completed a survey at the end of Revive said they most liked learning practical skills which built confidence and they liked being part of a peer small group with other parishioners. "I used to be terrified to pray in public! I wouldn't say it is easy but now I can do it and people find it helpful," said Sandra Thomson from Church of the Transfiguration, St. Catharines.
The churches of St. Catharines are unique in that they all did Revive at the same time and held a joint opening and closing retreat. "You can feel the effect of Revive in our regional gatherings," said the Reverend Canon Katherine Morgan of St. John's, Thorold. "There is a spirit of joy, love and spiritual growth."
Revive is not just for the long-standing Anglicans either. "I am a non-Anglican and this was a great way to learn about Anglican traditions and teachings while also spiritually growing," said Sue Chester from St. James, Fergus.
Clergy who participated also found that their spiritual lives were enhanced by participating in Revive. "It was absolutely good to be growing with and alongside parishioners," observed the Reverend Kevin Block of St. Barnabas, St. Catharines. "It is so nice to be able to speak to parishioners about their spiritual lives and help them grow in Christ. Isn't that what we signed on for in the first place!" said Archdeacon Peter Scott, rector of St. Mark's, Orangeville.
Clergy leading Revive met weekly with Canon Davis through online conferencing to review the upcoming session and try out the spiritual practice. "I appreciated the Zoom group sessions as it helped me focus, stay on track, and to be accountable," said the Reverend Leslie Gerlofs, from St. John's, Burlington.
Most of the 16 parishes will be doing Revive again with a different set of lay leaders, including St. George's, St. Catharines. "We are definitely doing Revive again next year," said the Reverend Canon Martha Tatarnic. "I already have people on a waiting list."
To celebrate this first year anniversary of the program in Niagara there will be a special celebration on October 1, 4:15-6pm at St. Matthew's on-the-Plains, Burlington. Revive alumni and those new to the program will join Forward Movement representatives and Bishop Bell. All are welcome and there will be refreshments, prizes and cake.
Clergy and lay leaders interested in Revive can email Canon Davis for more information or visit the Forward Movement website.
Those that have completed Revive are now asking for more as followers of Christ. "We need to continue to keep going with this wonderful spiritual experience," said Maureen Bennett, a parishioner at St. Thomas, St. Catharines. "I think I could maybe help others in their spiritual growth."
---
Source: Anglian Diocese of Niagara posted August 19, 2019